My favorite cookie press! Cookie presses tend to be personal things, and many people are attached to their various vintage or imported gadgets. For me, it used to be the old Mirro, but then I met the WearEver Super Shooter Electric Cookie Press and my Mirro was sent to the garage sale.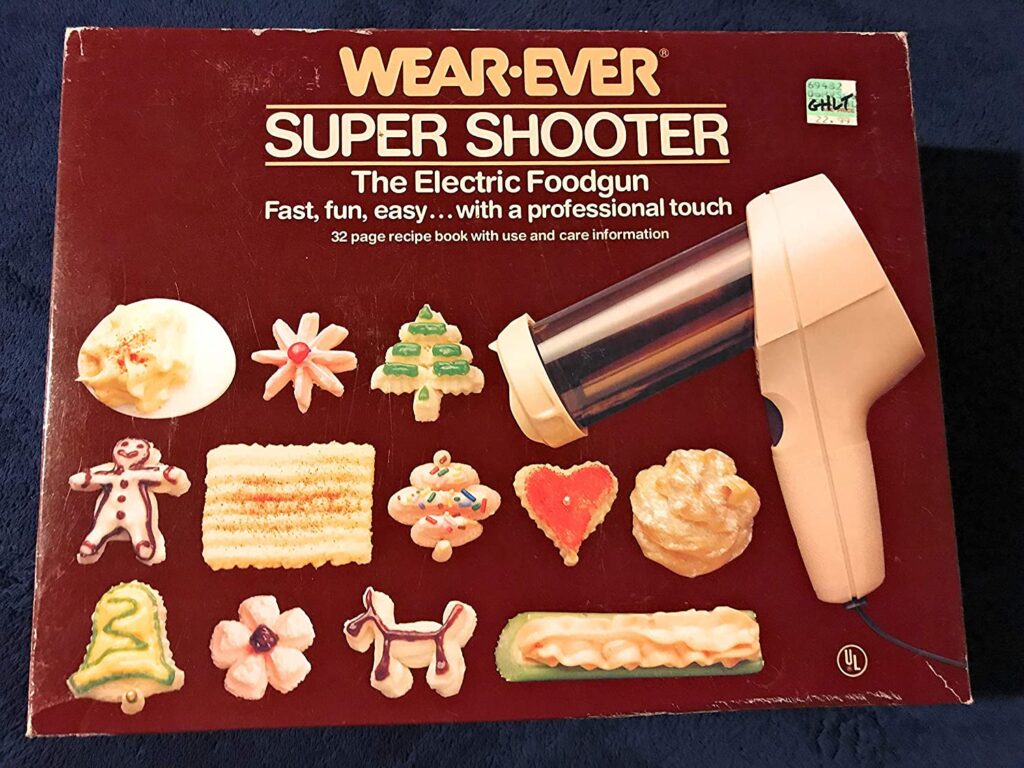 I have owned, tried and used many cookie presses used for making beautiful Spritz cookies, and my hands-down favorite is the old WearEver Super Shooter. It's a plug-in, electric cookie press sold in the 1970s (ish). This thing is brilliant, and I've never known anyone else who also had one to say any different. It's so easy to use, a light touch on the trigger, and it pushes the dough out perfectly (see videos a bit further down). They last FOREVER. About 15 years ago I bought a second one in case my original ever broke down and the original is still going.
They are old, but they are extremely easy to find on eBay, Etsy and even Amazon, these days. Prices are reasonable (I have seen them for as low as 10$), and there are a TON of these out there.
Furthermore, WearEver also produced the exact same product for Sears and Montgomery Ward, so you can also purchase a Sears Fun Gun or a Montgomery Ward Party Pistol and you have the same exact thing. The Proctor Silex corded (not cordless!) Electric Food Gun (or in French, the Presse à biscuits électrique) is also identical. Often the prices for these last three are lower because they are less well known.
Beware that there are cordless electric cookie presses also called the Super Shooter from Hamilton Beach and Proctor Silex! Regardless of the name Super Shooter, I can't recommend the cordless models. I know nothing about these versions. The Hamilton Beach and cordless Proctor Silex cookie presses may or may not be ok, but the ones I can confidently recommend are WearEver, Sears, Montgomery Ward and the cordED Proctor Silex brands.
Some crazy people are selling these for 250$. NO. If that is what you find when you start your search, keep looking. As of this writing, right now there is a used Party Pistol on eBay for 10$ and a brand new one in an unopened box for 55$. (I will post links at the end of this post).
If you'd like to see this thing in action, someone made a quick video on YouTube:
And yes, it is as simple as that! Here's another shot:
Links for the WearEver Super Shooter
WearEver Super Shooter on Etsy
WearEver Super Shooter on eBay
Links for the Sears Fun Gun
Sears Fun Gun on Etsy
Sears Fun Gun on eBay
Links for the Montgomery Ward Party Pistol
Montgomery Ward Party Pistol on eBay
These can also be found on Amazon, sold by individual sellers, but prices on Amazon for these tend to be wildly unreasonable so I will not link them here. You will find the best deals on eBay.