Have you ever wondered why Christmas baking makes such heavy use of spices? The answer is surprisingly simple: For centuries spices were one of the world's most valued commodities – sometimes costlier than gold – so using them lavishly in holiday baking was a way of demonstrating religious devotion. For the less high-minded, it was also a way to demonstrate worldly wealth. Other ingredients followed the same sort of logic, including poppy seeds, which we use here for this very old recipe for Poppy Seed Cookies.
Poppy seeds weren't expensive because of their rarity, or because they had to make an epic trek around the world to reach Europe. Anyone with room for a garden could grow them, in fact. The problem with poppy seeds was their tiny size. It can take up to 2 million poppy seeds to make a pound* and that's a lot of poppies. Unless you could afford to devote whole fields to the bright blossoms, you'd need to either use them sparingly or buy them from a local merchant. Either way, it made them a special ingredient and worthy of the most important festivals.
You'll find poppy seeds in a lot of holiday-season recipes across Central and Eastern Europe. They can be used in a couple of different ways. In large desserts, such as cakes and strudels, they're usually part of a prepared filling. The seeds are ground and then cooked in milk, along with sugar and other ingredients, to make a thick paste. This helps bring out the nutty flavor of the poppy seeds, and also (hurray for frugality!) stretches them so they'll go further.
Smaller treats, like these poppy seed cookies, leave the poppy seeds whole and don't use nearly as many. You'll find cookies much like these on Christmas trays throughout the German-speaking world, and on Hanukkah plates in Ashkenazi households. They're barely sweet, just enough to showcase the flavor of the seeds. The flavor develops over the course of a few days, so they're an excellent make-ahead choice.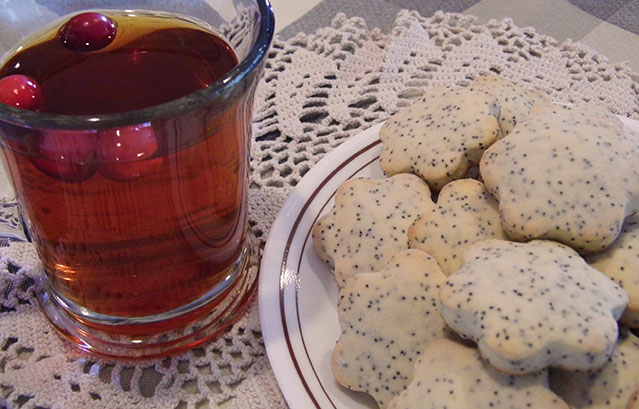 Poppy Seed Cookies (Mohn Cookies)
Yield: 3 to 4 dozen
3 large eggs
1/2 cup vegetable oil
1/4 cup orange juice
3/4 cup sugar
1/4 cup poppy seeds
3- 3/4 cups flour
1 teaspoon baking powder
Pinch of salt
Whisk together the liquid ingredients in a mixing bowl or stand mixer. Add the sugar and mix until it's thoroughly blended, then stir in the poppy seeds.
Whisk together the dry ingredients in a separate bowl, then add them to the liquid ingredients in four small portions. Mix until the ingredients come together into a medium-stiff dough. At this point you can wrap the dough and refrigerate it for 2 to 3 days, if you wish, and bake the cookies at your leisure.
Preheat your oven to 375°F (190°C). Dust your work surface with flour, and roll out the dough to 1/4" (1 cm) thick. Cut it into small rounds or shapes, ideally 2" to 2 1/2" (4 to 5 cm) in diameter.
Bake for 10 to 12 minutes, until the cookies have risen and show just the faintest hint of golden-brown at the edges. Cool completely on a wire rack before wrapping or packaging them.
Variations: These cookies have a pretty subtle flavor. If subtlety isn't how your family rolls, you can turn up the flavor by adding lemon or lime zest, or by substituting frozen orange juice concentrate for the orange juice. They're also excellent if you dip half of each cookie into melted white chocolate.
For an alternative presentation, form your cookie dough into the always-popular crescent shape (poppy seed crescents, or mohnkipferl). Scoop the dough by small spoonfuls, then roll each spoonful into a finger-sized log. Bend it in the middle to make a crescent shape, then bake the crescents as directed for the regular cookies. You can dip the ends of the cookie into melted chocolate or white chocolate, if you wish, or dip the whole crescent into a white or lemon-flavored glaze.
* On Food and Cooking: The Science and Lore of the Kitchen; Harold McGee; Scribner 2004 (pg 513)